Biggest Swell Ever Hits Europe
The giant swell is still bashing European beaches but before the on steroid winds and storms and rain and all the bad weather shit that makes waves unsurfable hit the British isles the first waves arrived. There was a small window for the big wave surfers from Ireland and Great Britain to catch and surf the biggest swell to ever hit the islands. Marine Institute's weather buoys measured the swell at 14 meters, ste waves on the spot of the day – Mullaghmore Head, south Donegal Bay, Ireland were in the 60ft range. Four surfers that surfed the swell were Duncan Scott (Newquay, Cornwall, UK), Alistair Mennie (Portrush, N.Ireland), Gabe Davies (Newcastle, UK) and Ritchie Fitzgerald (Bundoran, Co. Donegal, Ireland). Their surf session produced the biggest ridden surf ever recorded in the British and Irish Isles.
Previously the biggest waves recorded by the Marine Institute's data-buoys measured 44ft (13.4m).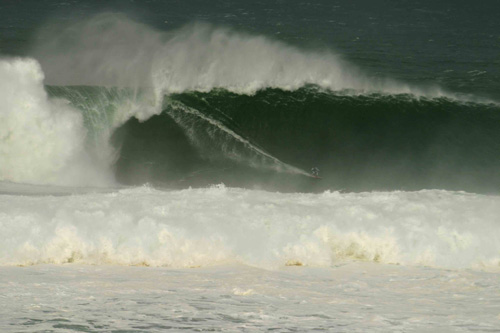 Duncan Scott, 1st December 2007, Mullaghmore Head, Ireland : photo Kelly Allen
Mullagmore Head
Mullagmore Head is a big wave surf spot in Ireland. The shallow reef hit by open-ocean swells jacks up the waves and this weekend they reached over 60ft.
Duncan Scott
One of the surfers was Duncan Scott, who is btw also the chief of the British Towsurfing Association: "Swell has been brewing for four or five days out in the Atlantic, and it was the biggest forecast I had ever seen – you never normally see that much red on the swell chart. The wave face was over60ft, and the biggest that any of us had ever seen. I was part of the group in 2005 that previously rode the biggest waves, but this dwarfed them."
"If you say you're not scared when you see waves the size of giant houses trundling towards you, you'd have to be a liar", said Scott. "It's that line between awesome and overpowering that's the attraction of big wave surfing."