Lisa Andersen – "Waterman of the Year"
The cream of surfing, pros and industry VIP's got together for the Surf Industry Manufacturers Association (SIMA) annual Waterman's Ball. They raised $500,000 to help protect oceans and beaches around the world. They also handed out a few titles. One went to Lisa Andersen for  "Waterman of the Year".
Lisa Andersen
Lisa Andersen is that blond surfer that brought women surfing into the spotlight. Sure it helped she looked good, but her surfing also had a word in this. She came charging onto the scene in 1986 and won over 30 NSSA trophies in less than 12 months. She didn't stop there, In her career he won four consecutive world championship victories from 1994-1997.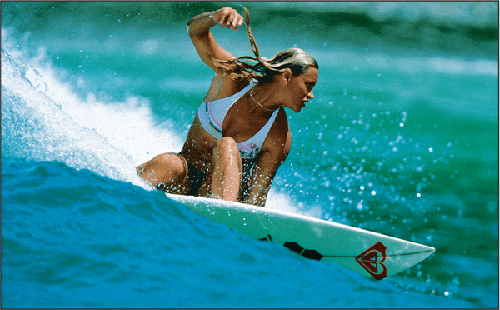 So its no wonder she is still inspiration to women surfers worldwide. Bick Baker, the president of SIMA blah blah… "Lisa is the epitome of women's surfing and you cannot think of the sport without thinking of her contributions to it. She has been given many titles – legend, trailblazer, world champion, icon and ambassador – and I believe Waterman (of the Year) is another well-deserved title as she possesses all of the qualities of a true waterman."
And Lisa? "Surfing professionally has been an amazing journey for me and the entire industry is like my family. The surf industry has supported me though my successes and failures. I'm grateful to the industry for its encouragement to be the best surfer, woman and mother I can be. Most importantly, I'm grateful that the companies represented in this room have made professional surfing a real career for women and that they continue to advance the sport for girls and women across the world."
Lots of sweet talk :) but she is still one damn good surfer.
Other Awards
Other awards were given to Eddie Vedder from Pearl Jam for  "Environmentalist of the Year" , Randy Rarick North Shore pioneer and surf contest guru got the "Lifetime Achievement Award", eight-time world surf champ Kelly Slater and seven-time world champ Layne Beachley also received "Special Achievement Awards" in honor of their record-breaking world championship title victories.