Stephanie Gilmore Crowned 2007 Surfing Champ
Stephanie Gilmore has just put her name in the surfing history books. She became the first-ever surfer to win the World Title in their rookie season. Despite all the trophies collected by surfers like Layne Beachley and Kelly Slater, Gilmore is the only one who succeeded in finishing her first year on tour in first place. She achieved this in round three of the Billabong Pro Maui at Honolua Bay when she beat Rochelle Ballard (HAW) and advanced into quarterfinals. Both of her rivals Sofia Mulanovich and Silvana Lima got stuck in round three. At the end, Stephanie Gilmore finished the last event in first place and cemented her win in the best possible way.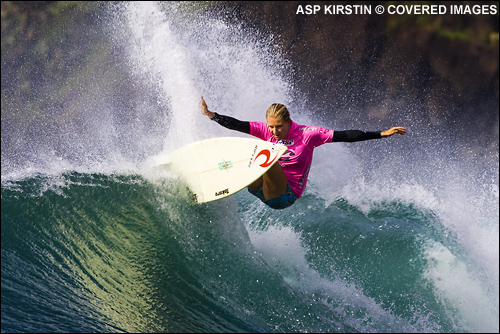 Stephanie Gilmore Rips The Lip Off In Hawaii
Stephanie Gilmore Blah Blah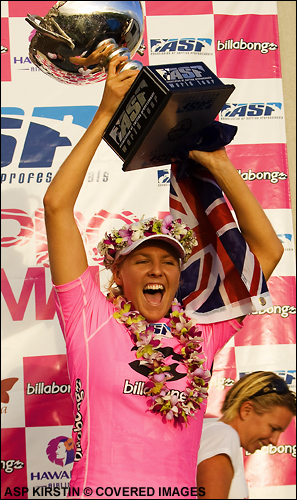 Stephanie Gilmore:  "Surprisingly, I did quite well to not watch Sofia's heat at all, and I didn't even know that Keala (Kennelly) had won until right before my heat was about to start. That was interesting. I guess it was awesome for me. I was stoked. It pretty much just fired me up when I heard that, and then the next wave I got barreled."
"It's been such an incredible year for me. Everything from traveling with my friends to winning events to claiming the title in Maui, it's all be so much fun. I can't believe it. To finish the year with another win, I'm just over the moon."
"It's truly an honor to make my way into the history books. To do it here in Maui, in waves that are barreling, and with all the family and friends here to share it with is truly amazing. I'm absolutely over the moon,and I'm just at a loss for words."
"I've just had an amazing first year on tour. I have great traveling partners like Jessi Miley-Dyer (AUS) and my team manager Kate Skarrat (AUS) has been there for me all the way – she's just a great person to bounce ideas off of. I've also had Mick Fanning (AUS) – he's a fellow Rip Curl team rider and his season this year has been a real inspiration to me."
"Right now, I'm just enjoying the moment. It's such an incredible feeling; I honestly can't describe it. Definitely though, next year I will be bringing my focus back to the tour. I don't want to lose this feeling, and I can't wait to finish out the year and head into 2008."
So it looks both titles are heading to Australia, we would sure like to be there for the party :) !
Stephani Gilmore 2007 World Tour Results
Stephanie Gilmore won 3 events this year.
Roxy Pro Gold Coast: Equal 5th
Rip Curl Pro Bells Beach: WINNER
Billabong Girls Pro Brazil: Equal 3rd
Rip Curl Girls Festival Spain: Equal 9th
NAB Beachley Classic Sydney: WINNER
Mancora Peru Classic: WINNER
Roxy Pro Sunset: Equal 9th
Billabong Pro Maui: WINNER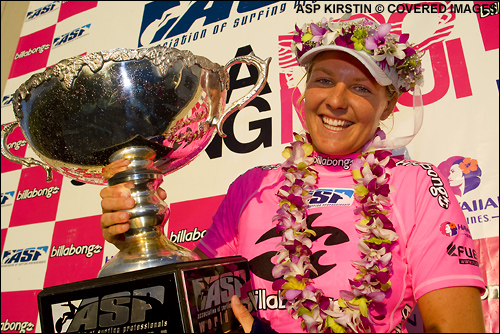 Stephani Gilmore Congrats!