Playing with the snowboards base was for quite some time only limited to the material used for the base and the way snowboards edges are inserted into the board. Snowboard base was flat. Because flat things slide better on snow, don't they? Recently, there are some snowboard companies that answer: "NO!" to that question. They claim that the overall feel and performance of the curved snowboard base in superior to flat snowboard bases. One of them is Bataleon snowboards. Their snowboard base is called Triple base technology. Base is completely flat under and between the bindings, but on the nose and tail the base is curved towards the edges. The result? Bataleon snowboards claim – smoother, faster turns with more edge grip, faster snowboard and less edge catching, easier transitions and pipe riding and more.
Bataleon about their Triple Base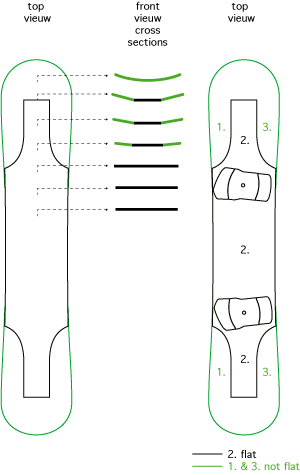 But lets hear it from the company behind the idea itself: "How? In the late nineties we studied the riding properties of the snowboard. We observed that a conventional flat board would change its shape when going through a curve. The torsion forces would twist the board in a 3D shape, leaving it with a smaller angle to the ground at the tip and tail, and the maximum angle in the middle. It was evident that this shape was beneficial for the riding properties of the board, but the question was how to take advantage of this knowledge. The solution was to split the base in 3 parts, giving the board a 3D shape where the left base is shaped for turning left, the middle part of the base is shaped for going straight, and the right base is shaped for turning right. The result was a board with a triple base, where each part of the base was shaped like the natural shape of a board in motion. Together with a group of the best snowboarders in Norway the concept was tested and the shape adapted for optimal performance. This group of individuals has spent several years developing boards fitted with the Triple Base Technology in order to satisfy the most demanding snowboarder. Triple Base proved to give great advantages going straight, in carves and transitions. Reduced tendency of edge-catch and basically a way smoother, and faster, riding experience!"  To decide for yourselves, you will be able to test drive their snowboards if you catch them during their demo tour.
For dates and detail check their website .