Surf Goggles For Females
Kurtis USA is a surfer-owned surf company that makes surf goggles. These days the came up with a no boys allowed female surf goggles called Madam X. Now surf goggles, earplugs and other similar gadgets always seemed kind of nerdy to me. I understand that some people just have to have them for medical reasons. Anyway, I was pleasantly surprised – Madam X goggles  actually look cool!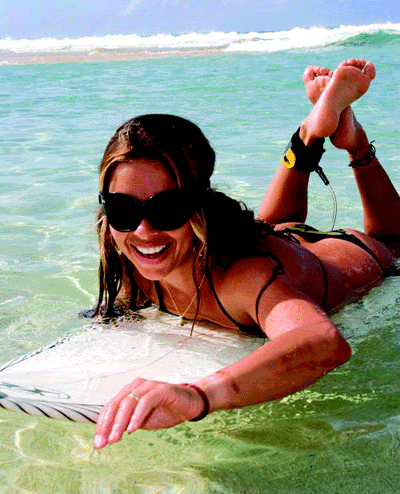 Hm…actually the surf goggles model is called the Kaiser Bowls after a surfing spot off of Oahu. They are flexible, polarized, 100% UVA and UVB, they wrap around your head and they float. If you are a guy reading thins and thinking gosh, why don't they make one for us… :) …they do, and its called the Duke model.
Why would a surfer girl want to wear surf goggles blah blah…
Kurt Shipcott, the founder, owner, manager of the Kurtis USA explains  "The number of female surfers continues to grow and it is important to recognize and respect them as serious athletes and talented surfers, Madam X design provides female surfers another tool to improve their vision of the waves (reduced glare) and ultimately increase both their wave count and performance."
No Fried Eyes
But still, why wear surf goggles? Maybe because they give you protection from sun and wind. Kurt Shipcott himself suffered from pterygium (a callous-like growth that can impair vision) on his left eye after years surfing in the sun and wind and decided to do something about it.
Surf goggles will be officially released during the surf industry trade show in the beginning of September and soon after that you will be able to get them on line at kurtisusa.com for $199.00.