Got your snowboard, got your snowboard bindings nicely wrapped in the box…now what? You can ask the shop you bought them from to mount your bindings (and maybe end up with a stance that you will only later on discover is not the best for you) or you can do it yourself. If you have never done it, it can seem complicated, if you do it all the time you can still learn something new – so how to mount your snowboard bindings?
Do you have the right bindings? 3×3 vs 4×4 vs Channel system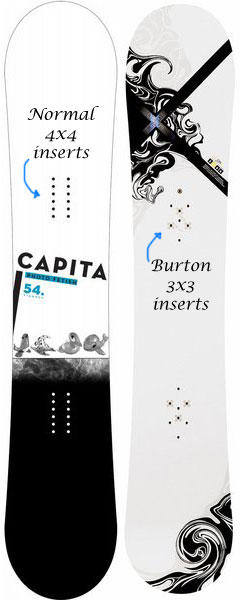 First just check you have the right snowboard binding with system compatible to your snowboard inserts (inserts are holes in the top of your snowboard). If you have a Burton snowboard, the inserts on the board should have three hole pattern (3×3 system) or a channel. In 2014 I think only two Burton models don't have Channel system so 3×3 is slowly dying out. Other boards companies use four holes (4×4 system).
Can you put non-Burton bindings on channel system board (EST)?
Originally the channel system only allowed Burton bindings (and of course bindings from other manufacturers that adopted the channel system but recently it has been improved and now non-Burton bindings do indeed fit on a Burton board featuring The Channel. I advise you to still check before buying if your board and bindings are really compatible. Also check the bindings are the right size for your snowboard boots.
And the other way around? Can you put EST bindings on normal snowboard?
The other way around is unfortunately not possible. You can NOT put EST bindings on a normal board. This might seem obvious, but if you are a beginner things can get confusing.
Can you put 3×3 on 4×4 and vice versa?
No, but all you need is a different center disc. Most of the snowboard bindings manufacturers include discs for both systems together with the bindings. If not, you can still ask in the shop if you can get one or as a last resort, you can return your bindings.
Mounting your bindings is pretty simple. Basically you just use the screws that came with your snowboard bindings and screw them into the holes on the top of your snowboard.
The "brain" part of the process are three basic measurements you need to decide on when you mount your bindings:
setback
stance width
angles
I suggest you read the stance adjustment article that will tell you everything you need to know about adjusting stance angles, width and setback. Useful stuff, really!
Step by step guide
OK, I hope you have read the stance article or that you know what kind of stance do you want to have. Before mounting bindings on your snowboard you should know:
Are you regular or goofy?
Do you need more setback than it is already in the snowboard?
Do you want to change your stance width?
What stance angles are you going to use?
Check, check, check & check? OK! From now on it is easy:
1. Get you bindings and put them on the snowboard
There is always a left and a right binding, it is obvious from the shape (if it is not written on the binding). If you are regular, put your left snowboard binding on the snowboard over the holes that are closer to the nose, put your right one over holes near the tail. If you are goofy do it vice versa (right binding – nose, left – tail).
2. Center each binding over the middle holes
Put them over the middle of each insert if you do not want to change your setback or your stance width. If you want to play with setback and stance width put them over different holes.
3. Put center discs with stance angle scale into each binding.
Zero angle must point towards the snowboard edge. The row of screw holes for each screw must be perpendicular to the snowboard edge.
4. Set your stance angles by turning your binding
Do not turn the discs you have just put in – turn the binding. Just watch the marker on the binding and the angle scale. Make sure you also try it with your boots in the bindings, so you can check for the boot overhang and adjust the angles accordingly.
5. Center your snowboard boot across the snowboard.
Put the boot into the binding and slide the binding back and forth from edge to edge. There is a row of screw holes to choose from in each disc (I warned you before). This is done after the stance angle is set – the angle affects how your boot is positioned. If you ever noticed that you drift one way when your back foot isn't strapped in, you might not be centered over your snowboard.
6. Now screw in your bindings as tight as you can.
Screws are known for coming loose at the worst time possible. Lots of screws that come with the bindings have a little rubbery plastic on them that prevents them from coming loose. If you have problems, get new set of screws. Anyway, check and tighten your bindings every few trips up the mountain (hint: that is much easier in your room than on the mountain when the bindings are stuffed with snow and frozen solid).
That's basically it. Your snowboard is ready to go.
There are a few more snowboard binding adjustments that you can do.
Adjusting the straps
If the bindings are new or you are using them for the first time you might also want to adjust the straps:
Strap your snowboard boots into the bindings.
Check the straps. The straps should come together easily, and you should be able to tighten them down so your boot is snug. Is the cushion positioned over the middle of your boot? Is the strap to long or to short?
Adjust the straps. Most snowboard bindings have some sort of system that allows you to adjust your straps length and position (unscrew the strap and tighten in through another hole etc….).
When strapping in, tighten the straps so your boot is fixed and doesn't move, but make sure it is still comfortable. To tight and you will limit blood flow – your feet will hurt, get tired and cold quicker. Bigger and anatomically designed cushions on the straps will distribute the pressure better.
Set you forward lean
What is forward lean? Forward lean is the amount of forward angle on the highback of the snowboard binding. More forward lean will give you better heel edge control and more power over it and it will push you in better riding position, too much forward lean will put lots of strain on your quads and you will get tired quickly and the board will be harder to turn. Try it and readjust, generally the forward lean is between 10 and 15 degrees.
Rotating highbacks
If your snowboard bindings are really adjustable you can rotate your bindings highbacks. You can make your heelside turning more responsive if you align your highback with the heel edge of the snowboard. If this is possible – do it!
That's it, you bindings are set. If you have any questions, ask in the comments.
PS: If you like this guide please share it on FB/Twitter. Many thanks!