Wetsuits
Published on February 6th, 2013 | by K
17
Wetsuit Care – 13 DO's And DONT's To Make Your Wetsuit Live Longer
Some wetsuit care can make you wetsuit last longer. Which can be the difference between one season or a good couple of years (depending on how much you use it). So take good care of your wetsuit and it will keep you warm. Here are the Do and Don't of the wetsuit care, but remember after all the sport is what really matters, don't let your equipment get in the way of your enjoyment.
1.

HOT WATER RUINS NEOPRENE

In hot water neoprene looses some of its flexibility, so if you like to change in your shower after a cold water session take of your wetsuit first, then soak yourself in warmth.
2.

SUN & UV RAYS AGE NEOPRENE

Do not leave your wetsuit on the sun! Sun is the neoprene's worst enemy. Dry your wetsuit in the shadow if you can. UV rays cause the neoprene to age much quicker, it gets hard and looses its flexibility. If you dry it in the sun at least put it away as soon as it is dry.
3.

HOT TRUNK IS NOT A GOOD PLACE FOR A WETSUIT

Do not leave you wettie in the trunk of your car in a parking lot on a hot day. Cooking wetsuits can't be good, raw are much better.
4.

DRY YOUR WETSUIT INSIDE OUT

Dry your wetsuit inside out. So you will keep the flexibility of the outer side and if the wetsuit is not completely dry when you are putting it on – you will still crawl into a drier side.
5.

STORE IT NICELY

Store your wetsuit on flat surface or wide coat hanger. Do not mesh it into a small drawer. It says so in the wetsuit instructions for a reason.
6.

CLEAN AND DRY YOUR WETSUIT QUICKLY

Do not leave you wet wetsuit to rot inside a bag, box wherever… all messy and sandy. Clean it and dry it. Regular care ads quite some time to the wetsuit lifespan.
7.

SURF WAX ON NEOPRENE PROBLEM

Surf wax sticks to neoprene, get over it! There is no elegant way to put it off and it will rub on quickly again anyway.
8.

THE MESSY DRESSING RULE

A wet wetsuit full of sand and mud is a riot to put on (not really). So when taking it off, stand on grass, on a rock, pavement, telephone booth, wetsuit changing mat, hotel carpet… just not in the middle of the sandy beach (or wash it out in the sea after you change).
9.

WASHING MACHINE NO NO

You do not wash you wetsuit in the washing machine and dry it in a dryer! So keep you mum, wife or girlfriend away from your dirty wetsuit. Clean it yourself. OK, if you are a surf school and have a ton of wetsuits that different people use daily then from time to time it's ok to wash them in a washing machine. You don't expect a 600$ wetsuit when you go too surf school but if it's clean and it doesn't smell you feel better right away.
10.

IRONING? YOU ARE KIDDING, RIGHT?

It is not very wise to iron your wetsuit. Duh! Just by the look of it you can assume that rubbery stuff is not the place to put your hot iron. But still, this is the standard warning in the wetsuit instructions.
11.

BLEACH? ANOTHER NO BRAINER

You should never use bleach or strong washing powder on your wetsuit. But there are some mild washing powders made especially for washing your wetsuits. Washing your wetsuit by hand!
12.

MY WETSUIT STINKS NO.1

Does your wetsuit stink so much that your neighbors knock on your door to check if someone died? Is your cats favorite place on the top of your wetsuits looking for fish? There are a few reasons for the smelliness. Basic reason is our sweat and body oils that our skin produces. These are breeding ground for the bacteria which are in fact the thing that smells bad in a wetsuit. You can of course make your wettie extra stinky if you are lazy – you left your wet wetsuit in a bag for a while and you did not wash it right away.
13.

MY WETSUIT SMELLS FUNNY NO.2

The other reason for odor is your urine. Try not to pee (as much) in it, because pee also deteriorates the neoprene and leaves the worst smell of them all. But frtunatelly there is a solution to wetsuit odor.
How To Get Rid Of Wetsuit Smell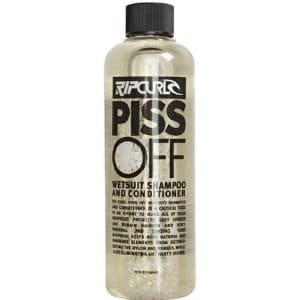 There are special soaps for washing your wetsuit and removing the stink. One of the brands for instance is called PISS OFF (made by Rip Curl). Then recently I came across another easier way of getting rid of the smell. Once every couple weeks, throw your wetsuit in a tub of fresh warm water (not hot) with a couple caps of dishwashing detergent. Wash it and the detergent will break down the body oils and wash away the bacteria that leads to smelliness. Rinse your wetsuit in fresh water so you get all the detergent off, then dry your wetsuit in the fresh air. Try to repeat this every few weeks (of course depending on how much you use it) and your wetsuit will be odor free.
14.

LENDING YOUR WETSUIT

Never lend your wetsuit to your friend if he is heavier than you, your wettie will stretch and soon it will be to big for you.

The source of these tips is the wetsuit maintenance and wetsuit care tips.