XS, S, MS, M, MT, MLS, ML, MLT, LS, LT, XLS, XLT, XXL, XXXL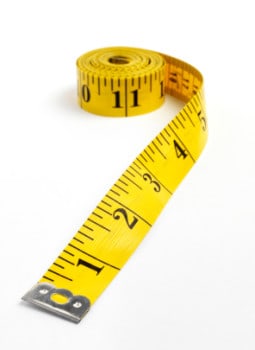 Are there really thirteen different wetsuit sizes? Well yes and no, some of sizes you can see in the list above are pretty rare. But if you come across any of them – here you can find explanations what these letters mean.
Unlike regular clothes, a wetsuit is typically going to be sold in either a small, medium, large, or extra large (S, M, L, XL). There are two reasons for this:
they can stretch quite a bit so one size will fit different people and
they are meant to fit very snugly.
As more and more advancements have been made with the materials used in wetsuits they have been able to stretch even more than in past. What I am trying to say is that you don't normally have regular clothes sizes with wetsuits. But as always things are not that simple. In addition to those standard sizes there are other sizes that are used by many brands so if you come across them it's important to know what they mean. Keep in mind, however, that this is not a standardized size chart used across the industry. Each company may have slight differences in what each size is, but the information below should help you choose your next wetsuit so it fits properly.
Before we go to the explanation a few more tips on wetsuit sizing that may come in handy if you are a beginner:
Wetsuit should feel snug, even a bit tight. But it should not force you to bend over.
After you put it on thy crouching, bending over, jumping and moving your arms. See if there is an abvious restriction of movements or if the sleeves are to short.
Also – if it is difficult for you to breathe then YES, wetsuit is too small:).
First sign of wetsuit being too big is a gap between wetsuit and your body on your back just above your backside. Because of the curve of your back this is the first place where you can see if the wetsuit is to big. But a little room is ok, it is hard to find a perfect fit.
Extra Small (XS)
These usually come in kids sizes but sometimes you can get a "grown up" XS wetsuit which is meant for kinny and small people.
Small (S)
This is a pretty popular option in wetsuits. It is for people who aren't very tall and are not at all overweight.
Medium Short (MS)
MS is intended for people who are shorter than average, but have a larger body shape. Whether you have a few extra pounds to lose or you work out and have larger than average muscles, Medium Short is likely the right size for you.
Medium (M)
The standard for people who are of average height and weight. You can see I am not giving any height and weight numbers since M size from one brand can be different from M size of another brand but since medium is somewhere in the middle it's a nice orientation point. So generally M is for people from 5'9″-5'11" (175cm-180cm) and from 150-160lbs (65-72kg) with average body shape.
Medium Tall (MT)
For those who are tall and skinny the medium tall is the right option. This means the same weight as medium but with longer arms and legs.
Medium Large Short (MLS)
There are not too many wetsuit manufacturers who carry this uncommon option. It is perfect for people who are quite heavy, but shorter than average in height.
Medium Large (ML)
If you're average height but built a bit heavier or stronger than normal, this is the one for you. Essentially this is the opposite of the medium tall option.
Medium Large Tall (MLT)
There is not a significant difference between this size and a standard large wetsuit. It is good for taller people who are also built a little bigger than normal. This is not a very common size and not used by most manufacturers.
Large Short (LS)
If you've got a larger body shape and average height, this might be the right wetsuit size for you. It is quite similar to the standard large except for a little shorter.
Large (L)
This is the typical large sized wetsuit for people who are taller and bigger than average.
Large Tall (LT)
For those who are quite a bit taller than average and have a skinny body, the large tall is the right choice for you.
Extra Large Short (XLS)
The extra large short size is for anyone that is smaller than the extra large size but still has a large or strong body shape.
Extra Large (XL)
For those who are both tall and large, this is the standard.
Extra Large Tall (XLT)
When you're very tall and too skinny for a XXL wetsuit, this one might fit perfectly.
Extra Extra Large (XXL)
For those who are very tall and have a very big body type.
Extra Extra Extra Large (XXXL)
XXXL is the largest size you can find without a custom order in most cases. It is for those with extremely tall and large body types. This is not a very common size and is only made by a few companies.