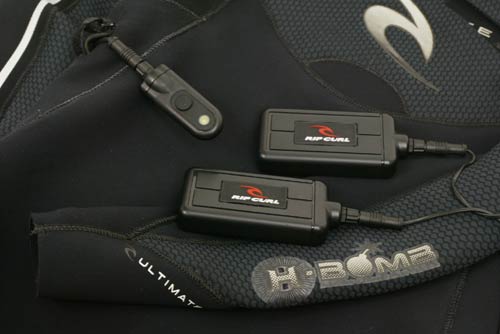 Rip Curl released its new wetsuit called H-Bomb. H-Bomb is the first heated wetsuit on the market. I guess it was just a matter of time after all the gadget integration we have seen in the last years. So what's the deal, you turn up the heat, set the mode to well done and leave a note: "Gone to Iceland….surfing!" ? Not so fast, Rip Curl will launch this wetsuit in the northern hemisphere next year and in Australian market in 2008. If you are interested how the damn thing works, read on.
H-Bomb = Rip Curl + Jett Performance Products
Michael Ray, who is Rip Curl global wetsuit manager said several patents had been taken out for heated wetsuits so far, but guess all of them were to expensive or to complicated to make. "It's like a car that runs on solar power — it's not a novel concept — but the execution of it is the trick," he said.
Rip Curl joined forces with another company that works in the field of heating technology and makes battery powered heating panels. Its founder Rob Vassallo initially created a heated vest in 2003. The objective was to make the jockeys wearing it to sweat profusely and loose weight. Then the bikers found him and out came a heated jacket and vests with two infra red heating panels in the back. No more cold kidneys and no plugging you jacket into the motorcycle. Then came the football players etc… OK, and then came Rip Curl. There is still a lot of testing to be made before the H-Bomb wetsuit appears on the market. "When it goes out we want to make sure that there's no issues or faults," he said. "Surfers put their wetsuits through a hell of a lot of abuse."
How the battery heated wetsuit works?
H-Bomb keeps you warm by positioning a source of heat on your upper back. This heats your core and lets warm blood circulate to your extremities. The heat is generated by two coated fiber elements. The elements conduct electricity that generate heat. The elements are made of fiber ­ so there is no metal involved ­ which means there is no electromagnetic field generated and no metal to corrode when it is exposed to water.
H-Bomb has two temperature settings:
Low: 50 – ­55C (120 – ­130F)
High: 60 – ­65C (140 – ­150F).
A thin layer of neoprene lies between the elements and your back to spread the heat evenly and protect your skin. It's an infra red heat with a therapeutic quality usually used to relieve muscle soreness and tension. The first test pilot was 2005 World Championship Tour number 7 Nathan Hedge, who commented "It's one out of the box, it feels sooo good! You keep really warm, even on the low setting and it just keeps you feeling warm all over throughout. I didn't want to give it back after the R&D session".
For a really demanding test, Rip Curl drove all the way to the Arctic circle to do some surfing between the icebergs.  One of the test pilots – Adam Wickwire had this to say about the new battery powered wet: "The H-bomb even helps combat the flush. When you get flushed it actually helps because the water circulates around the wetsuit and helps distribute the heat."
Batteries
The heating in the H-Bomb is powered by two Polymer Lithium Ion 7.2v batteries. These are the same type of batteries found in your mobile phone or iPod. There is no danger of radiation, electric shock or explosion from these batteries by ­even if it is called the Bomb! The batteries weigh 0.12kg each and are positioned on your lower back where they are cushioned against your body by a layer of neoprene so you can't feel them. By the time the wetsuit launches they will be even smaller. Batteries have enough juice to keep you warm for two hours on the high setting and can even be recharged by your car's cigarette lighter.
Heating bill
Mr Ray said he believed heated wetsuits would eventually become a standard item for surfers. The wetsuits will likely retail at between $1000 and $1200 when they arrive on the market. Not exactly a standard price but H-Bomb is not exactly a standard wetsuit.
Source: Rip Curl releases H-Bomb by Rip Curl