Stephanie Gilmore Wins In Peru
The Mancora Peru Classic is over and Stephanie Gilmore finished on top. Win in Peru was her third event victory of theseason. And she solidified her lead in the the hunt for the 2007ASP Women's World Title. If she does it, she will be the first ever to win the ASP World Title in their rookie season.
Stephanie Gilmore Blah Blah After The Event
On her win: "I was definitely feeling the day's strenuous efforts on my body therein the last few minutes of the heat. We did a lot of sitting and waiting, but it's pretty difficult to stay mentally focused for the entire 40-minute final. I don't know how I managed to get that last wave in the dying seconds. The ocean was dead flat, and then outof nowhere came this little wave and it was pretty special. I'm pretty proud of myself."
On winning world title: "We don't want to get too far ahead of ourselves, but I'm still sitting in No. 1 on th ratings and it's right where I want to be. Hopefully I've gained a couple of points with Layne (Beachley)coming in second and not Silvana (Lima) or Sofia (Mulanovich). I really don't want to think about it, but going into Hawaii, I'm pumped to just get on some bigger boards and some bigger waves and get some really good action going."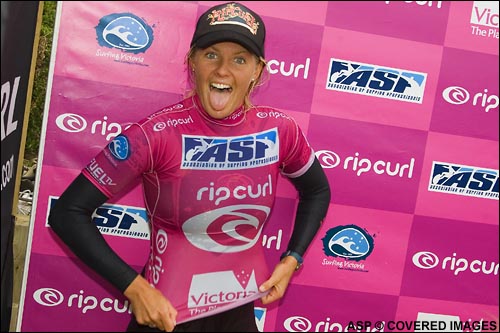 Stephani Gilmore
at Bells Beach, Photo: ASP
Who Is Stephanie Gilmore?
Stephanie Gilmore
Also known as:Steph
Date of birth:January 29, 1988
Place of Birth: Murwillumbah, New South Wales, Australia
She Lives In: Tweed Heads, New South Wales, Australia
Her Parents:Mum, Tracy Gilmore and Dad Jeff Gilmore
She also has: 2 older sisters, Whitney and Bonnie
Boyfriend?: Single
Hobbies: Music, playing guitar and sky-diving
Star Sign: Aquarius
Stephanie Gilmore Video & Interview
There are two more stops on the 2007 ASP Women's World Tour. Girls are heading to Hawaii, firsts for Roxy Proat Sunset Beach from Nov. 23 to Dec. 6, 2007 and then for Billabong Pro Maui from Dec. 8-20, 2007.
ASP WOMEN'S WORLD TOUR STANDINGS AFTER MANCORA PERU CLASSIC
1 – Stephanie Gilmore (AUS) 5508 points
2 – Silvana Lima (BRA) 4982 points
3 – Sofia Mulanovich (PER) 4567 points
4 – Chelsea Hedges (AUS) 3878 points
5 – Layne Beachley (AUS) 3854 points
6 – Samantha Cornish (AUS) 3684 points
7 – Amee Donohoe (AUS) 3434 points
8 – Rebecca Woods (AUS) 3000 points
9 – Jessi Miley-Dyer (AUS) 2899 points
10 – Jacqueline Silva (BRA) 2474 points
11 – Megan Abubo (HAW) 2424 points
11 – Melanie Bartels (HAW) 2424 points
13 – Melanie Redman-Carr (AUS) 2412 points
14 – Rosanne Hodge (ZAF) 2244 points
15 – Claire Bevilacqua (AUS) 2232 points
16 – Caroline Sarran (FRA) 2052 points
17 – Rochelle Ballard (HAW) 1260 points
18 – Leilani Gryde (HAW) 612 points